Can the experimental drug, remdesivir defeat 2019-nCoV?


By Gloria Han, GenScript February 02, 2020
Similar study are also underway for the third coronavirus, Middle East respiratory syndrome coronavirus (MERS-CoV). Though there are no approved treatments for MERS-CoV infection, a combination of lopinavir, ritonavir and interferon beta (LPV/RTV-IFNb) is currently being evaluated in humans in Saudi Arabia. However, in a study published online in Nature Communications on 10 January shows that the combination of lopinavir, ritonavir and interferon beta only slightly reduces viral loads without impacting other disease parameters in MERS-infected mice [4]. The study was led by Dr. Ralph Baric of the University of North Carolina, Chapel Hill. In this study, researchers from Dr. Baric's team show that in mice, both prophylactic and therapeutic remdesivir (RDV) improve pulmonary function and reduce lung viral loads and severe lung pathology. Thus, they provide in vivo evidence of the potential for RDV to treat MERS-CoV infections [4]. In an article published online on January 27 in Science, Mark Denison, a virologist at Vanderbilt University who has studied coronaviruses since 1984 says "Remdesivir has had activity against every coronavirus we've tested, and I'd be surprised if it didn't have activity against this one (2019-nCoV)." Yuen Kwok-Yung, a microbiologist at the University of Hong Kong who co-authored a comprehensive analysis of potential coronavirus treatments in Nature Reviews Drug Discovery in 2016, also agrees that remdesivir is the most promising drug for 2019-nCoV and MERS [5].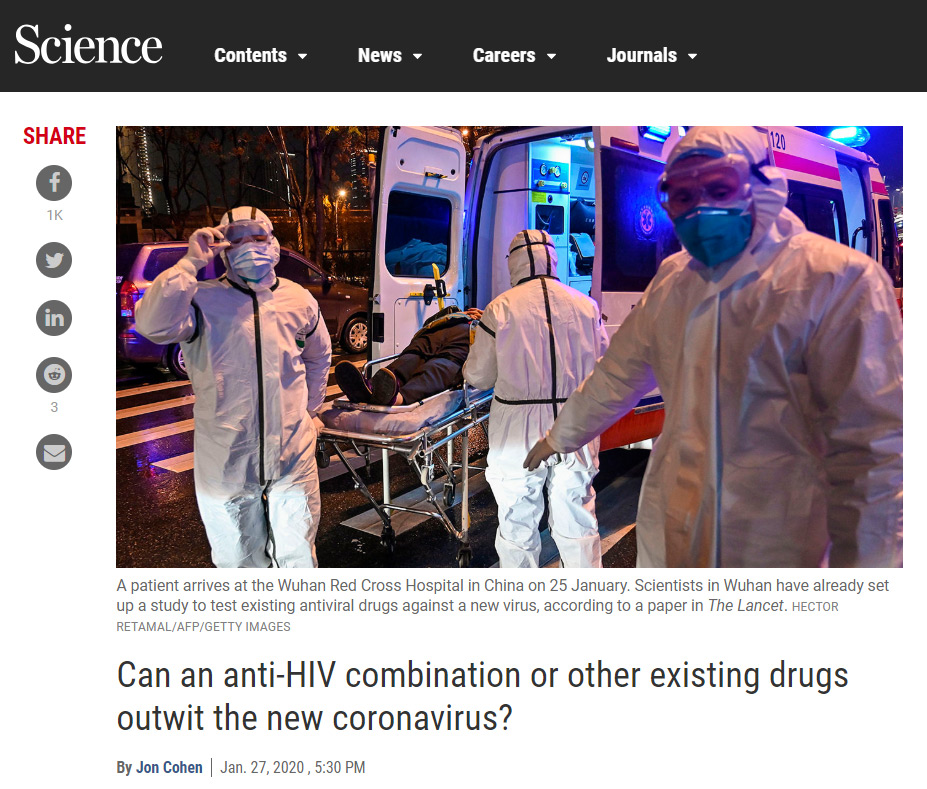 On January 31, 2020, Gilead Sciences issued a statement from Merdad Parsey, MD, PhD, Chief Medical Officer on the company's ongoing response to the 2019 novel coronavirus. According to the statement, "Gilead is working closely with global health authorities to respond to the novel coronavirus (2019-nCoV) outbreak through the appropriate experimental use of our investigational compound remdesivir." And "Gilead is working with health authorities in China to establish a randomized, controlled trial to determine whether remdesivir can safely and effectively be used to treat 2019-nCoV."[6]
The outbreak of 2019-nCoV has spread rapidly in China, and more cases are now confirmed in multiple countries. "While there are no antiviral data for remdesivir that show activity against 2019-nCoV at this time, available data in other coronaviruses give us hope." As Merdad Parsey said in the statement. We look forward to seeing more data and study that the drugs do have good effects in the treatment for 2019-nCoV infection.

References

Chu CM, Cheng VCC, Hung IFN, et al. Role of lopinavir/ritonavir in the treatment of SARS: initial virological and clinical findings. Thorax 2004;59:252-256.
Sheahan, T.P., Sims, A.C., Leist, S.R. et al. Comparative therapeutic efficacy of remdesivir and combination lopinavir, ritonavir, and interferon beta against MERS-CoV. Nat Commun 11, 222 (2020).
https://www.sciencemag.org/news/2020/01/can-anti-hiv-combination-or-other-existing-drugs-outwit-new-coronavirus
Here are more topics you may be interested in